Love Eller? Love giving back to your community? Love resume builders? Check out Eller Make a Difference Day: two days dedicated to Tucson service projects. Great for community service and resumes! Stay tuned on Suit Up Sundays for more information about how you can be part of the 1200 volunteers who serve the beautiful Tucson community.
Visit www.ellermakeadifference.com for more information!
Here is just one of the many organizations in which you could Make a Difference: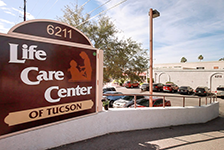 Life Care Center of Tucson
Help build a community spooky haunted house for nursing home residents and the Tucson community.
About Life Care Center of Tucson: Life Care Centers of America is committed to being a premier provider of long-term health care. It is our desire to be the facility of choice in any community in which we operate. Our programs, services and facilities must be designed and operated with superior quality in order to satisfy the needs of our customers.